A must-see
article | Temps de Lecture5 min
One of the most beautiful cloisters in Provence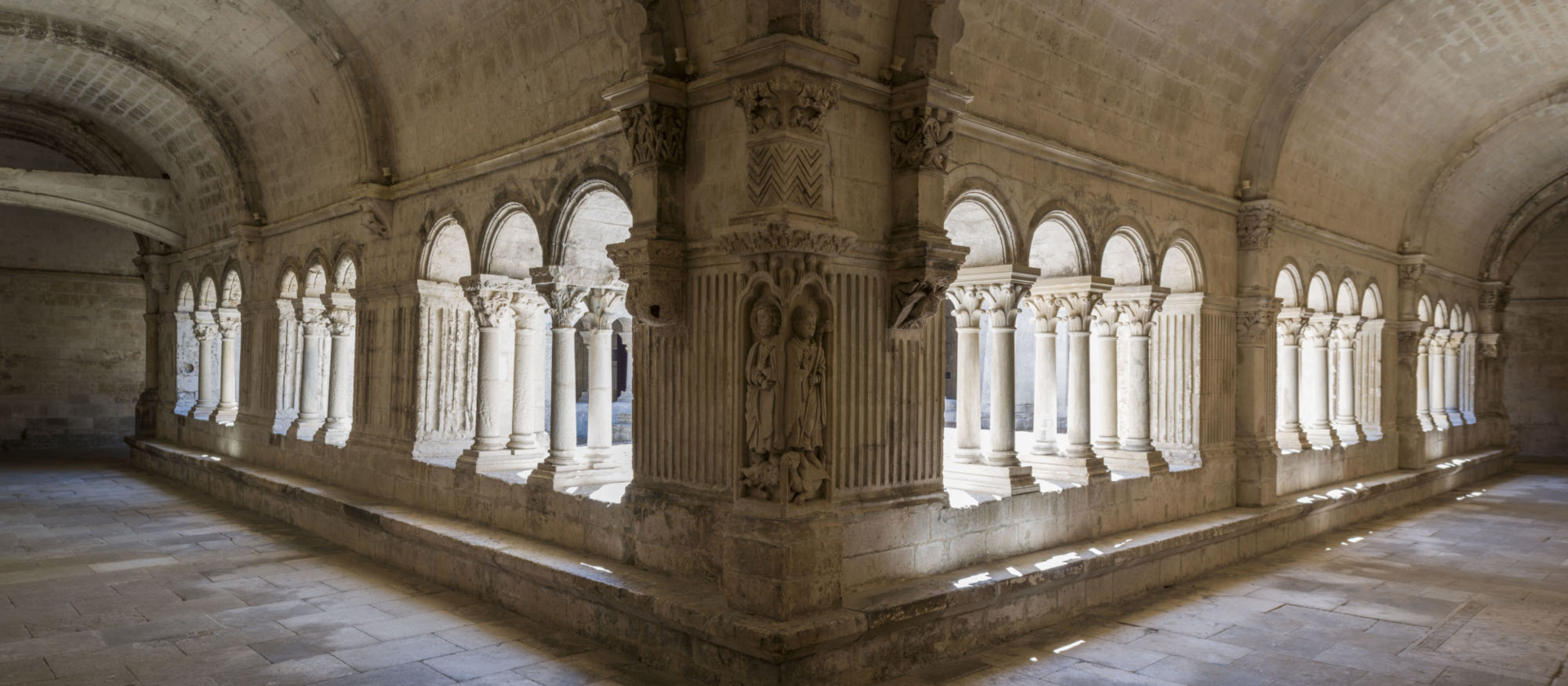 If you think of the Middle Ages in terms of gargoyles and carved capitals, you'll be delighted by the cloister at Abbey of Montmajour.
The architecture of the cloister
The word cloister comes from the Latin "claustrum", itself from the verb "claudere" – "to close". It initially referred to the enclosed area in which the monks lived and which was to be used solely by them. Later, it primarily described the square courtyard leading to key areas in the life of the community.
Built in the 12th and 13th centuries, this cloister is home to a unique decorative ensemble! And remember that in the Middle Ages, the décor was intended to both delight...and instruct !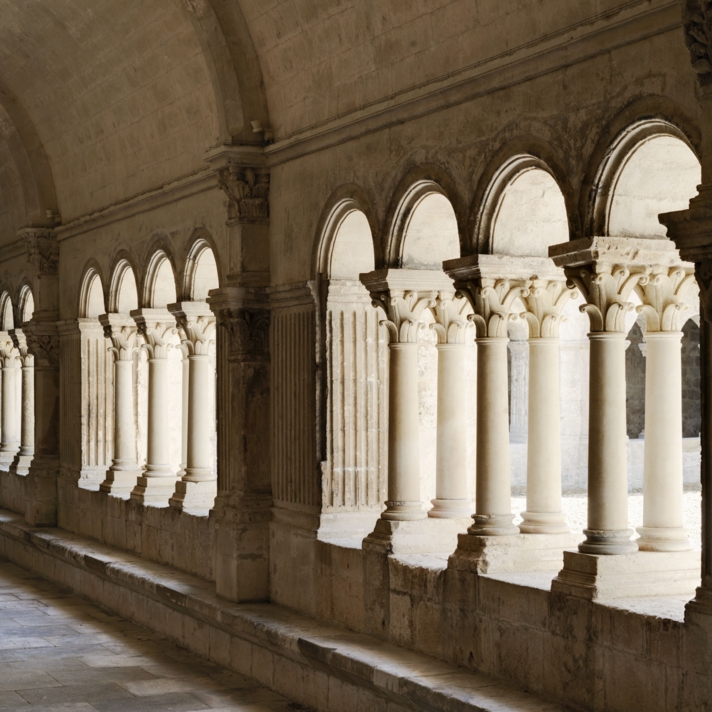 A decorated cloister...
Let's start with the bas-reliefs . On either side of the refectory door, in the south gallery, stands a statue dating from the Romanesque era: they might be the count and countess of Provence, although some believe them to be King Solomon and the Queen of Sheba. You be the judge!
You mustn't miss the recently restored pillar at the corner of the north and east galleries, showing St Peter holding the keys to the kingdom of heaven and abbot Guillaume de Bonnieux, his fingers raised in blessing. Naturally, the devil is underfoot !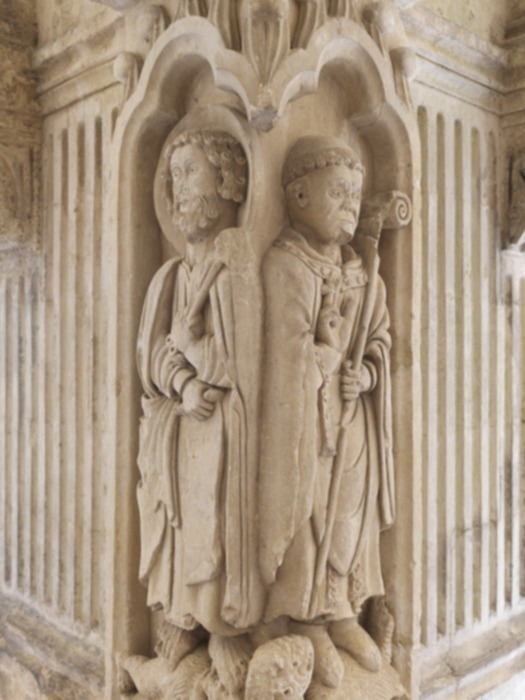 ... to remind you of the right path
Consoles are architectural or decorative pieces, used here as supports for the traverse arches of the galleries. Always placed opposite each other, they follow an iconographic pattern based on the Christian bestiary and other beasts of myth and legend.
Come and see – there are dromedaries, a bear, and a billy goat. And if you're not the sort to scare easily, dare to come face to face with the fearsome Tarasque, a creature that's half dragon, half tortoise, and whose mouth is the mouth of hell!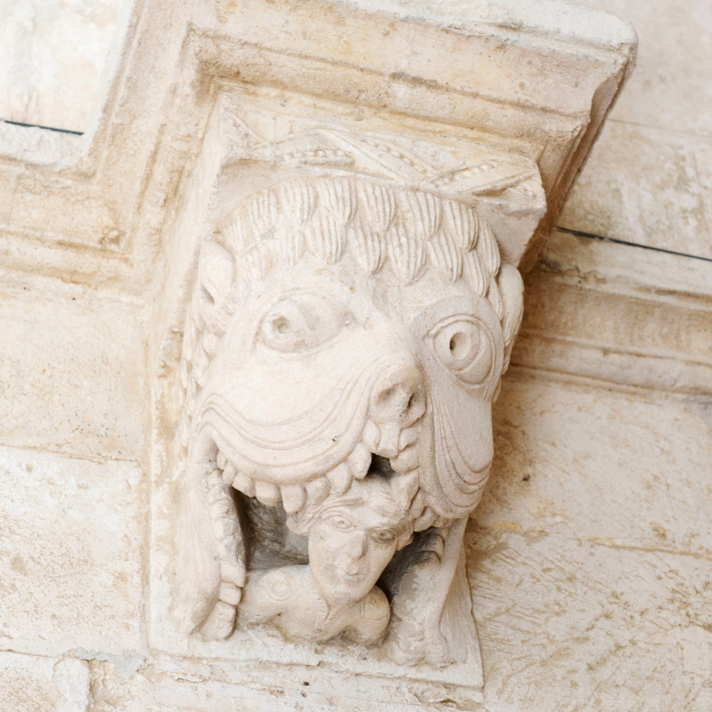 Marvel at the 48 capitals
And you're sure to be blown away by the 48 capitals at the top of the columns – like the consoles, they are based on ancient themes. Here in Montmajour, the inspiration is Corinthian, and much use is made of acanthus leaves in their decoration.
They mainly feature plant iconography, as well as scenes from daily life and from religious texts – look for a monk being buried or the Coronation of the Virgin Mary. You'll even find the Temptation of Christ if you try.
See what you can find !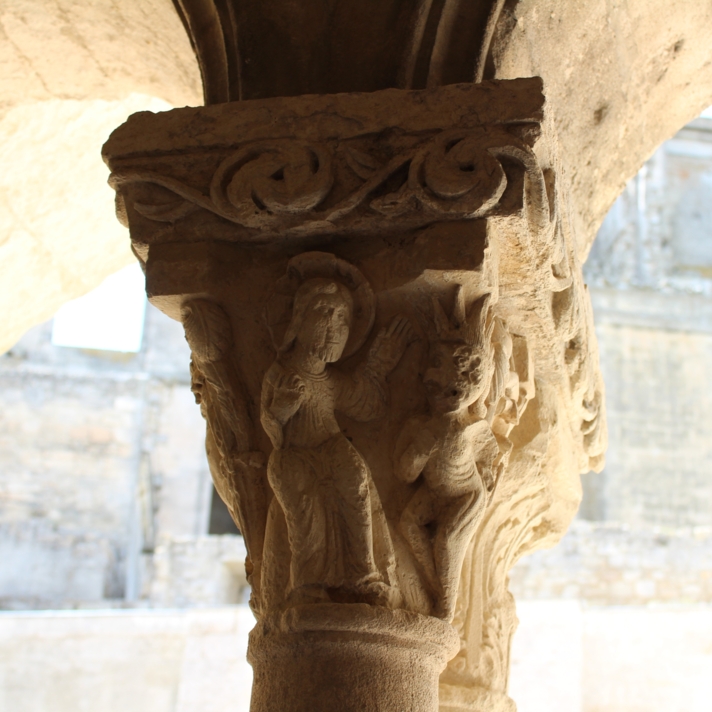 The cloister's sculpted decor